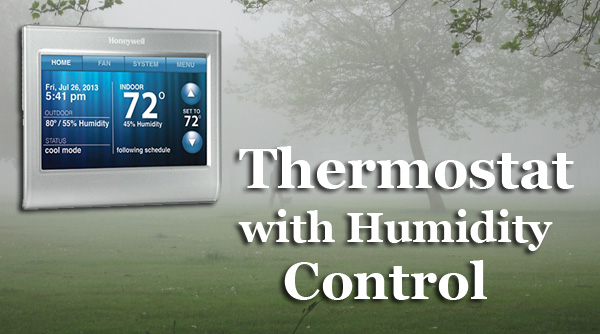 While choosing a thermostat, comfort and convenience are two of the most important considerations. With the advancements in technology, modern thermostats, along with a host of features, like remote access, Wi-Fi, etc. also come with a built-in humidistat to make the process of managing and monitoring the temperature and humidity of your home, almost effortless.But with a large number of thermostats with built-in humidistat available in the market, choosing one can be a difficult process. To help you make a smarter buying decision, we've listed some of the best thermostats with humidity control. At the end of the post, we'll also choose a favorite among the available choices to make sure that your buying process is quick and easy.
Top Thermostats with Humidity Control
Honeywell RTH9580WF Wi-Fi Touchscreen Thermostat
The first entry in this list of best WiFi thermostats with humidity control is RTH9580WF Wi-Fi Touchscreen Thermostat from Honeywell. With a highly intuitive touchscreen display which provides detailed information about the status of your HVAC system and the environment of your home, the thermostat is an excellent competition to Nest.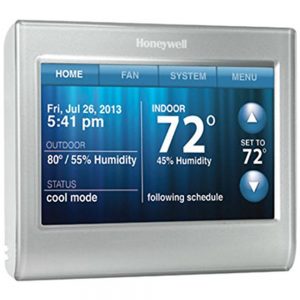 Apart from being bright and responsive, the display offers impressive customization options, like the ability to change the color of the display to match with the interiors of the room, sliders to adjust the value of color, brightness, and shade, etc. However, the plastic built of the display is a major letdown. On the screen, you'll find the inside and outside temperature and humidity, date, day, time, the current mode of your HVAC system, target temperature, and buttons to make adjustments to the target temperature. Some users have also complained that the display screen of this Smart Wi-Fi thermostat is too crowded and confusing.
The thermostat automatically detects your temperature and humidity preferences, or you can manually make changes to it, directly through the touchscreen or its web portal. However, you'll be first required to register your thermostat on its web portal. Moreover, there is also Android and iOS app for programming and controlling the thermostat.Honeywell's web portal is pretty impressive and allows you to make adjustments to almost all the features of this Wi-Fi thermostat. The thermostat also has some unique features, like its vacation schedule which turns off your HVAC system when you are away for a long period. Moreover, if you are planning to install this thermostat with humidity control in your office, you'll surely like its feature which allows you to program the national holidays in the device. However, these impressive features can only be programmed through the thermostat itself and not through its web portal. Nevertheless, the RTH9580WF Wi-Fi Touchscreen Thermostat is still an excellent product.Features
Intuitive and Bright Touchscreen
Learns Your Temperature and Humidity Preferences
Wi-Fi Enabled
Remote Access from Smartphone, Tablet, and Computer
Energy-Saving Settings
Local Weather Conditions
Email Alerts
Easy Setup
PROS:
Incredibly easy to install
Highly customizable screen
Energy-saving settings to save electricity
Automatic alerts for changing filters of your HVAC system
App and Web portal to program and monitor the thermostat
CONS:
No motion sensor
Busy and crowded-looking display
All the features cannot be programmed through its web portal or app
Plastic enclosure looks flimsy
---
Emerson 1F95-1291 Universal 7-Day Touchscreen Thermostat with Humidity Control
White Rodgers made some serious improvements in its Big Blue Touchscreen Thermostats, and now with this Emerson 1F95 Universal Touchscreen Thermostat with Humidity Control, the company is trying to compete with other carrier thermostat with humidity control, like the above mentioned Honeywell RTH9580WF and Nest 2.0.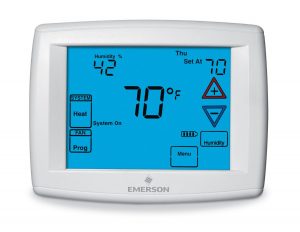 The universal thermostat is compatible with all the cooling, heating and heat-pump systems, making it an ideal pick no matter what type of HVAC system you have. It features a bright 12 sq.inch touchscreen display which is highly responsive and displays the current temperature, humidity, target temperature, status of your HVAC unit, + and – buttons to adjust target temperature, battery status, menu button and a button to adjust humidity.
The thermostat allows you to choose between a 7-day, 5/1/1-day programmable schedule or choose you custom schedule as per your convenience. Each program offers four temperature and four-time settings to eliminate the need to adjust the thermostat time and again. The dual-powered thermostat with humidity control can be powered by a battery or can also be hardwired with a backup battery. It also meets the Energy Star specifications and is compatible with millivolt as well.While the thermostat is surely a step above the existing line of thermostats from White Rodgers, its built-in humidistat is defined as laggy by some users. As per their reviews, the humidistat takes a lot of time to detect the changing humidity.Features
Universal Thermostat
7-Day, 5/1/1-Day, and User Defined Programmable Schedule
Large 12Sq.Inch Display
Programmable Energy Management Recovery
Keypad Lockout
Meets Energy Star Specifications
Dehumidification and Dehumidifier Control
PROS:
Large and easy-to-read display
Installation is easy and quick
7-day programmable schedule
Can be powered by a battery or can be hardwired with a backup battery
Every program offers four temperature and 4-time settings
CONS:
Built-in humidistat is laggy
Better choices available in the same price bracket
---
Venstar T5900 High-Resolution Colour Touchscreen Digital Thermostat with Humidity Control
T5900 is the first digital color thermostat from Venstar with humidity controls. The easy-to-use thermostat offers some great features, like Simple Stat mode, Energy Usage Information, and customizable background, making it one of the best Wi-Fi thermostats with humidity control.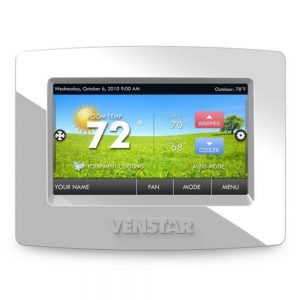 T5900 is designed to work with almost all the heating and cooling systems but doesn't feature built-in battery. This means that you'll be required to have C-wire to connect it to a power source. With the help of multiple dip-switch settings and the settings which are required to be done when you first use this thermostat, you can adjust the various systems of this thermostat.
Its touchscreen interface is highly intuitive and provides you with a variety of settings, like scheduling based on the calendar. While this Wi-Fi thermostat is a lot better than the traditional thermostats, it misses the ability to program itself automatically, which is a feature that is found in some other best Wi-Fi thermostats with humidity control. Also, you'll need the optional card to connect the thermostat to your Wi-Fi network.Automatic night dimmer and the ability to display your pictures in the screensaver mode are some other features that work in T59000s favour. While the thermostat does have some impressive features, the features still don't justify its price tag.Features
Dehumidification, Humidification and Reheat Features
Android and iOS App for Controlling and Managing the Thermostat
Automatic Adjustments for Daylight Savings
Compatible with Most 2-Stage Cooling and 4-Stage Heating Systems
Wi-Fi Compatible with ACC0454 Accessory
Auto-Night Dimmer
Customizable Background Image
PROS:
Touchscreen is highly intuitive and offers good amount of information
Users can use their photos in the background of the display
Scheduler does a great job of maintaining the temperature and humidity
7-days heating and cooling history
CONS:
Requires C-wire
Calls for an additional accessory to connect to your Wi-Fi network
Expensive
---
Pro1 IAQ Model T955WH Touchscreen Wireless Thermostat Kit with Humidity Control
The battery-powered, wireless T955WH Touchscreen Thermostat with Humidity Control from Pro1 IAQ is the last entrant to this list of best thermostats with humidity control. The thermostat has a bright 13-inch touchscreen panel, making it easier for the users to use this thermostat. The thermostat is compatible with almost all the different types of 2-stage heating/2-stage cooling systems and with 3-stage heating/ 2-stage cooling pump systems. With the help of an additional accessory (R251W) from Pro1 IAQ, the thermostat can be connected with up to 4 indoor remotes and another optional accessory (R250W) can be used to connect it with an outdoor remote and set multiple fuel balance sources.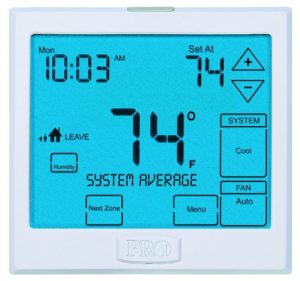 The thermostat is 7-day or 5/1/1-day programmable, or the user can program it as per their preferences. Its leave, wake, sleep, and return programs are highly intuitive and do an excellent job of saving energy. It has glow-in-the-dark buttons, making it easier for you to use the thermostat in low lighting conditions. Keypad lockout, compressor delay protection, and indicator to signal filter change are some of the other useful features of this thermostat with humidity controls.
While the thermostat has some very useful features, complaints like frequent loss of connection with the base, limited wireless range, and heavy battery consumption, etc. have made it one of the least popular thermostats with humidity controls.Features
Large 13-inch Touchscreen
7-Day or 5/1/1-Day Programmable
Bright Blue Backlight
Programmable Fan
Glow-in-the-Dark Buttons
Filter Change Indicator
PROS:
Large display screen is easy-to-read and use
Compatible with almost all the different types of heating and cooling systems and pumps
Can be connected with indoor and outdoor remotes with the help of additional accessories
Powered by battery
CONS:
Heavy battery consumption
Frequent loss of connection from the base
---
Best Thermostat with Humidity Controls
From the options mentioned above, our vote for the best thermostat with humidistat built in goes to Honeywell RTH9580WF Wi-Fi Touchscreen Thermostat. The thermostat has large number positive user reviews on Amazon and is loaded with some very useful features, like customizable display, automatic learning of your temperature and humidity preferences, mobile app, web portal, etc. that make controlling and monitoring the temperature and humidity of your home completely effortless.
Cheapest Thermostat with Humidity Control
T955WH Touchscreen Wireless Thermostat with Humidity Control from Pro1 IAQ is the cheapest of all the options mentioned in this post. However, the thermostat is negatively reviewed by a lot of users. But if it still suits your preferences better than the other available options, you should unquestionably go ahead with it.
Conclusion
Use the information mentioned above to buy a thermostat with humidity control that is perfect for your needs. With multiple options available in the market, it is this research and information that will allow you to make a smart buying decision. If you are looking to buy a Wi-Fi thermostat, don't forget to visit our page- Best Wi-Fi Thermostat Reviews to know more about some of the best choices available in the market.