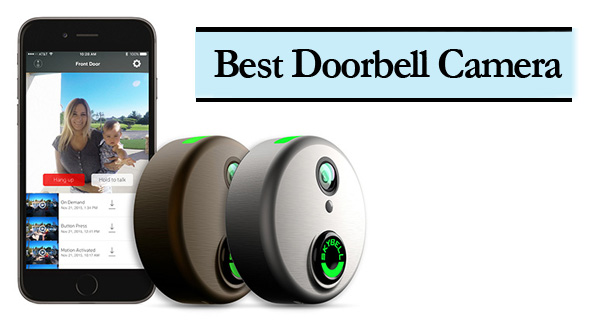 The recent technological advances have taken the world by its imaginative spirit. No one could have thought the possibility of innovation with the doorbells. The market is indeed flooded with a whole range of smart doorbells. The massive product line offers some unique features such as two-way communication, video recording, remote locking, etc. Read further to check out the comparative analysis of the best doorbell cameras that have been specially handpicked and hand-tested.
Skybell HD Doorbell – 1080p camera
The Skybell HD 1080p camera is the flagship product of the company. It epitomizes their idea of being most effective within a minimalist framework. It has often been projected as the best doorbell camera in the market.
Specifications
It is, in fact, amusing to see how little the device is, and it will blow your mind away to see how heavy duty and well presented the product looks.
Skybell HD 1080p has a width of 0.9 inches or 2.2 cm and when measured across; 2.8 inches or 7.1 cm. It weighs a mere 1.9oz or 53.8 grams.
You can see the following in order on the exterior of the camera:
Multi-Color LED on the top,
The HD video camera,
Motion sensor,
The ring button which is equipped with LED indicator lights, and
The digital microphone and speaker.
Benefits
The best part about the Skybell HD 1080p camera is its live streaming capability along with the two-way conversation feature.
In addition to this is the video on demand facility which is absent from most of its competition.
Features
The camera is capable of producing images at 1080p HD and with a 5x zoom capability.
Motion sensors which trigger on even if the visitor doesn't ring the bell.
An active log which allows users to see an entire day's history of events.
The ease of recording and watching videos at one's convenience.
Multi-user base which allows more than one individual to receive alerts.
It's like a video telephone. The users and the visitors can converse their hearts out.
HD quality night vision in color.
Allows users to turn off the chime.
Rough and tough – it can withstand temperatures ranging from -40 and 140 degrees F.
If stolen, the company guarantees to replace it with a brand new piece.
PROS:
Setup and installation do not take much time.
Fantastic night vision.
All weather proof and water resistant.
It is embedded with advanced encryption.
It can be accessed on demand.
CONS:
Available only in direct power options.
Slightly overpriced.
No web app.
Call record facility not available.
Motion triggered activity log not accessible.
Needs an existing doorbell wiring for installation.
Why should it be bought?
Skybell HD 1080p camera stands out because of the quality assurances that it comes with. The device offers reasonable performance and high added security features. It is a solid investment which does not disappoint. Moreover, the company guarantees a replacement in case it gets stolen.
August Cam Doorbell – 960h camera
The 960h camera is a unique concept design offered by August Cam. Its functions and features might seem same as most cameras available in the category, but it stands apart because it can be synched with your smartphones, laptop computers, and the new smart watches as well.
Specifications
The HD camera offers crisp and clear image quality irrespective of the time of the day. With a field view of 140 degrees, there is hardly anything that can escape its viewfinders.
August Cam 960h camera is mounted using a Hex Wrench mounting wedge for the added dexterity.Benefits
The smart doorbell also offers a unique remote lock mechanism. This enables high safety.
Non-smartphone users can also use it. The device comes equipped with a keypad that can be fastened onto the doorknob through which text messages can be sent to the user.
Features
High-grade motion sensors that trigger an alert even at the slightest activity in its periphery.
The HD camera provides videos and images of the highest quality.
It can be synchronized with almost all the smart devices.
A unique feature of the camera is its remote lock mechanism. This feature allows users in suspicion to lock their houses or businesses from any location.
The users can get real-time information about the status of their house locks though the smart devices.
Through the two-way conversation mechanism the households can communicate with ease.
PROS:
Quite easy to install.
Dynamic usage for both smartphone and non-smartphone users.
Sturdy design.
The magnetic strip works flawlessly.
Compatible with both Android and IOS.
CONS:
Its uncanny square design.
Needs to be hardwired.
Why should it be bought?
August Cam 960h camera stands out because of its ability to sync with most of the smart technology around. In addition to that, it is also best suited if there are elderly individuals in the house who are not familiar with smartphones. Certainly the pros outweigh the cons by a massive margin and its price point along with subscription charges is much less as compared to most of its competition.
Ring Doorbell – 720p camera
The best part about its appearance is that it does not give away its identity in one go. The current model has been improved by the developers, to allow better quality video and audio. Moreover, its design gives it a sleek and classy look.
Specifications
The Ring Doorbell measurements: 4.9 by 2.4 by 0.8 inches (HWD) emphasize the sturdy built. It is divided into two sections: the upper section houses the 1,280X720p camera, a motion sensor; and the lower section contains a large sized ring button which has LED backlights.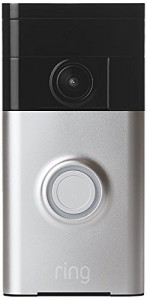 It also contains a rechargeable battery. To recharge it, you'll have to remove it from the mounting plate and charge it using a USB cable. The charging duration is about 10 hours and with this, it will run for a whole year.
The installation process will not set the user back by much, hardly over 15 minutes. All you need is a good high-speed internet connection, and it is ready to roll. As far as connecting the doorbell with a power source goes, it can be connected using the wiring from the old doorbell or just be let to run on the internal battery.
Benefits
In addition to the mounting plate, the doorbell also comes with a small toolkit. This kit contains screwdrivers, drill bits, a weather sealant, hardware to mount the doorbell, and a level.
It works well through its apps available on the popular platforms: Android and IOS. The app is minimal and to the point.
Features
It has high-temperature resistance. It can operate between -5 to +120 degrees Fahrenheit.
Secure WIFI connectivity.
The cloud storage has been made available at a cost of $30 yearly.
Additional household members can be added to the notification list.
The user can at given time using the app, irrespective of a call being made, take a look through the camera and be sure of any suspicion.
PROS:
The HD camera is quite good,
It offers cloud recording,
The app will alert you when the camera detects motion,
Easy to install.
On-demand video.
CONS:
Only offers a 720p camera at high price.
Audio quality is slightly inconsistent,
Battery life reduces drastically with usage.
Why should it be bought?
Like any other video doorbell camera, the Ring 720p camera performs all of those functions and more. It is also important to mention that the sharp design – the metallic and high-grade plastic combination give the doorbell a classy appearance. It has been tried and tested by many experts and is sturdy enough to last a long time. Therefore, it is a sound investment.
Conclusion
A lot of individuals today have realized the importance of securing and monitoring their households. Such concerns are indeed valid keeping in mind the rise in crime rate. Security is indeed a crucial matter and must not be taken lightly. Therefore, you must choose to invest in the best doorbell cameras rather than cheap make do knockoffs. Investing in a doorbell security camera will guarantee that feeling of being secure and having peace of mind. While all three are good and have some unique features, it is the Skybell for us, that takes the numero uno position followed by August Cam and finally Ring Doorbell.